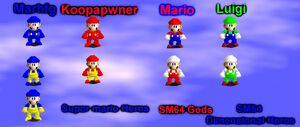 Marhfg is a Machinamist/Bloopers maker.
His main machimas are Super mario heros (inactive)
Super mario 64 Gods (Inactive)
Super mario 64 Dimensional Heros (active)
He is leaning towards the good side of emiga war (due to emiga using incomplete message tactics and also hating mario.) Very good friends with Iwant94 Supermariohax74 many more that hate emiga.
preview of his episode 5 in after effects