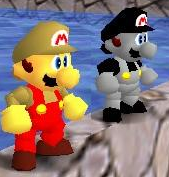 NEX and GBX (Sometimes called The X Bros., or X-X) is a Nuteral Youtuber, but is acting 2 people. This can be challanging,but it's not that hard
Role in Musthasto's videosEdit
NEX and GBX have not appeared in any of Musthasto's videos.
Role in NEX and GBX': The Dark WorldEdit
They are the Main Characters/Creators, so they have pretty big roles in the Plot
Areas:
NEX:
Bowser's Emerald Palace
GBX:
GBX is not discovering anything in Part 1, as that is NEX in Bowser's Emerald Palace, and GBX will explore in Part 2
Rivals,Best Friends & Enemies
Edit
NEX and GBX Don't have enimies, but Rivals
These are
Rivals:
>EmigasFist
>SuperEmiga
>Any kind of dopple
>Bowser and his alternate forms
>Flagpoles
Best Friends:
>EugenTheBoy(In Youtube "Eugen TheBoy")
Each other
(Pending list)
Other than that they are friends with everyone
Other Forms & Color Codes
Edit
NEX
8107EC20 B700
8107EC22 0000
8107EC24 B700
8107EC26 0000
8107EC28 B700
8107EC2A 0000
8107EC2C B700
8107EC2E 0000
8107EC38 6F5E
8107EC3A 2800
8107EC3C 6F5E
8107EC3E 2800
8107EC40 6F5E
8107EC42 2800
8107EC44 6F5E
8107EC46 2800
8107EC50 D399
8107EC52 2C00
8107EC54 D399
8107EC56 2C00
8107EC58 D399
8107EC5A 2C00
8107EC5C D399
8107EC5E 2C00
8107EC68 390E
8107EC6A 0700
8107EC6C 390E
8107EC6E 0700
8107EC70 390E
8107EC72 0700
8107EC74 390E
8107EC76 0700
8107EC80 D18F
8107EC82 2E00
8107EC84 D18F
8107EC86 2E00
8107EC88 D18F
8107EC8A 2E00
8107EC8C D18F
8107EC8E 2E00
8107EC98 AE57
8107EC9A 0000
8107EC9C AE57
8107EC9E 0000
8107ECA0 AE57
8107ECA2 0000
8107ECA4 AE57
8107ECA6 0000
GBX
8107EC40 0000
8107EC42 0000
8107EC38 0000
8107EC3A 0000
8107EC70 0000
8107EC72 0000
8107EC68 0000
8107EC6A 0000
8107ECA0 0000
8107ECA2 0000
8107EC98 0000
8107EC9A 0000
8107EC80 6464
8107EC82 6400
8107EC88 6464
8107EC8A 6400
8107EC20 6464
8107EC22 6400
8107EC28 6464
8107EC2A 6400
8107EC50 6464
8107EC52 6400
8107EC58 6464
8107EC5A 6400
(Color codes pasted Directly from site)
Super NEX
(no color code...yet)
Super GBX
(no color code...yet)
Every other form, including Hyper, Ice, Fire, etc
(no color code...yet)
Ad blocker interference detected!
Wikia is a free-to-use site that makes money from advertising. We have a modified experience for viewers using ad blockers

Wikia is not accessible if you've made further modifications. Remove the custom ad blocker rule(s) and the page will load as expected.