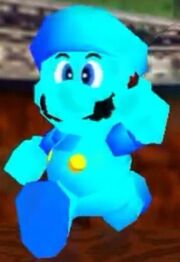 StarigiStarigi573 is the Star World counterpart of LuigiLuigi573. He has yet to make an onscreen appearance, though he will surely appear in one of LuigiLuigi573's videos, and is due to appear in LuigiFan383's 100 subscriber special. He also has a chance to appear in The Cosmic Crystals V (if LuigiLuigi573 makes it into the YouTube Rangers before the series starts coming out).
Friends (in no particular order)
Edit
StarTube Friends
Edit
FastStar-Runner(SS64)
StarStarigi9080
TheStarHunters
StarioStario54321 Wiki Friends
Edit
Ustario
yayastara7762
SuperStarioBros99thx
StarlanStarlan54321
Star World Friends
Edit
Staro (Spiro's Star World Counterpart)
StarigiStarigi583
Pustar
Lunarxen (Fexen's Star World Counterpart)
Spacered (pronounced space-ird) (Kird's Star World Counterpart)
ZtarStarigi8070
Ad blocker interference detected!
Wikia is a free-to-use site that makes money from advertising. We have a modified experience for viewers using ad blockers

Wikia is not accessible if you've made further modifications. Remove the custom ad blocker rule(s) and the page will load as expected.