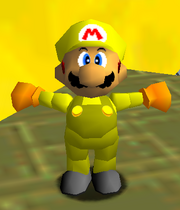 Starman3 is MarioMario54321's best friend. He is the leader of the YouTube Rangers. But He become hated by peoples because his behavour.
Likes
Members of the YouTube Rangers
Super Mario 64 machinimists
Sierra (Even Sierra Doesn't Like Him)
Dislikes
Anyone against MarioMario54321
Death Trappers
Musthasto (He Hates Musthasto with no Reason)
MarioMario66666 (Hated from no Reason just like Musthasto)
Trivia
He Hates Musthasto, cause he think Musthasto bully him. but Not!
He is 23 but he act like 6 years old
Now half of YTR Hates him, cause he act like a manchild
He can't make machinima forever, he needs get a job and find a wife. but not a 13 years old girl like sierra.