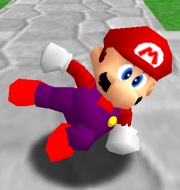 Yayazura7762 is a SM64 Machinimist from Malaysia who likes Mario and Super Smash Bros. series. He was make his SM64 bloopers and playing SSBB and SSF2 (Smash Bros. Fanmade). He also was founder of his wiki, Yayazura7762 Wiki.
The list of Yayazura7762's friends
Edit
Best Friends:
Friends:
Starmario74
Superstarmario88
bigblast66
smg4fan11
SuperMarioHax74
SpeedyMario7
SuperBluey7449
Superstarmario99
Dshaynie
TheCrashBandicoot12 (He closed his Youtuber account)
The people he hates
Edit
The list of his bloopers
Edit
Jump to the top castle - January, 21 2013
Trapped in the haunted house - January, 25 2013
50 subcribes special!! - January, 27 2013
Meet my dopple! - February, 5 2013
5 ways to EmigasFist died - February, 8 2013
Trapped in desert - February, 22 2013
150 subcribes special a.k.a randomness 1 - February, 27 2013
Irham7762 speaking his first languages! - March, 7 2013
Do the Harlem Shake! - March, 11 2013
200 subscribes special a.k.a randomness 2 - March, 15 2013
The Return of Mahri2677 - TBA
'Trapped in desert', one of his bloopers, was originally going to be named 'Lost in desert'.
His color code is similar to EmigasFist but slightly different from his color code because his has white gloves, and brown shoes.
His real username was actually Irham7762. He uses that username in his videos.
He was first Malaysia SM64 Machinimist since he joins SM64 Machinima at January, 7 2013.